Wedding Florist
---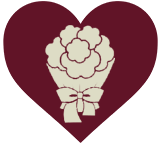 Flowers make any day special. But they will especially make your wedding day extra special. Think about how your venues would look without them, they would look very bare. We realize that most people have a wedding budget to think about and you may be very tempted to cut in this area but we suggest that you look around the Reno area for some quality florists and talk things over before you make any final decisions. Wedding flowers are important, they may not be the most important element of your big day but they are important. So, unless you are a flower expert, you do need your own professional wedding florist in your corner. There are so many different types of arrangements that need to be through through and created. Obviously you need the bride's bouquet, flowers for your entire wedding party, your guests of honor, and as arrangements on the floor and tables of your venues. And don't forget that your wedding day flowers are an expression of you. Not to mention that your flowers will be a huge part of your wedding photographs. So, now that you understand how important flowers are to your big day, here is a guide to finding the right professional florist that will be able to make your dreams come true.
Obviously, in order to hire anyone, you have to find a few quality candidates that you can check out first. Talk to people that you know who were recently married, what was their experience with a professional florist like? Would they recommend the person? If you have other wedding vendors that you have hired, ask them if they have any recommendations. Do some online searching for wedding florists in the Reno area. At some point you should have 3 to 5 candidates to consider. Call or email each one to find out if they are taking on new clients at this time. If they are, ask them for a day and time that you could meet to discuss your wedding needs.
To determine if a wedding florist is the best fit for you, you will need to investigate various aspects of the candidate's background and their expertise. How long they have been a wedding florist? You are looking for someone who knows wedding flowers inside and out. What drew them to the wedding floral business? Why should you hire them over the candidate that you just interviewed or that you will interview tomorrow? Do they only create and provide flowers for weddings or do they also work on other events? Is this the kind of work that they have a passion for? They should be able to show you their portfolio of past weddings that they have worked on. Does their work appeal to you? Can you see them working on your wedding? Do they seem to have the skill to give you what you are looking for? Talk about their style. What if you want a specific style that doesn't seem to be theirs, will this be a problem or are they able to work with different styles. How much are they going to cost you? What can they do or what can they suggest to help you save money on your floral needs. One of the big issues is usually if you use in-season or out of season flowers. In-season are usually a lot less expensive. Can you provide them with pictures of what you really like? Will this help? Can they provide extra items like vases, aisle runners, candelabras, trees, votives, mirrors and more?
Share your floral budget with each candidate. What do they feel can be done for your budget number? How long will it take to set up? Make sure they agree to do a venue walk through. Will they be at your venues on your wedding day to make sure that all goes well? How would you provide payment? Is a deposit required? By the time you have completed all of your interviews, you should feel very good about one particular florist. If this is the case, ask for a contract and start down the path to a beautiful wedding.
Back to the Wedding Guide